When we think of metal we think of Europe and USA, but in today's ultra globalised community we most definitely should not! So, if the South East Asian metal scene is something you are unfamiliar with, then you are seriously missing out on some great extreme metal music in recent times. While a band or two from this region of the world does achieve international fame every few years, we all know that the true metal clan wearing their favourite band tee shirts lies in the underground!
So, here are 5 albums from the South East Asian extreme metal underground that will provide you with an understanding of what this corner of the third world stands for.
Keep in mind that this list is not created in any particular order but only to provide you with an introduction to some of the best underground metal to have come out in recent times.
Amorphia – Merciless Strike
Thrash Metal – India
Amorphia is easily one of the best thrash metal bands in the current South East Asian scene. Formed in mid 2010s, their debut EP, 'Arms To Death', is a brutal slab of razor sharp riffs and beer drenched vocals that is always a thrasher's wet dream. But what really got the heads turning was their debut full-length 'Merciless Strike'!
Featuring relentless thrash assault from the trio, 'Merciless Strike' is any thrasher's wet dream come true! The band has co-headlined two editions of the prestigious 'True Thrash Fest' hosted in Japan, and their debut album is also getting a re-release.
Listen to 'Merciless Strike' here : https://youtu.be/kzxo3DeAVik
Dionysus – A Hymn To The Dying
Death/Doom – Pakistan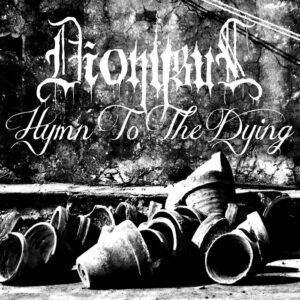 The Pakistani metal scene is where you look for quality and never for quantity. Dionysus was one such band formed in the early 2010s and their debut and only release, 'A Hymn To The Dying', came out via Salute Records from Sweden in 2012. It was later re-released as well with variant covers. This was a 3 piece doom project that laid the foundation for the Pakistani metal scene and their sound was was influenced by artists such as Katatonia and Asphyx.
The band is no longer active and having played only a few shows in Karachi and Lahore, Dionysus is a Pakistani underground metal gem that should absolutely be on your playlist.
Listen to 'A Hymn To The Dying' here: http://dionysuspk.bandcamp.com/
Tantra – Death Trance Ritual
Black Metal –Singapore
The Singapore scene, or as they like to call it 'SingaHell', is one steeped in mysticism and dark roots of theistic traditions. And upholding such an essence through their blasphemous art is Tantra. Bringing together sinister riffs that remind one of the old school Swedish or Norwegian era, and an added atmospheric element with the help of noise laden doomy passages; Tantra's debut release, 'Death Trance Ritual' was a true black metal gem from this part of the globe.
If you are a sucker for spooky black metal, then this will be right up your alley! The album was released in 2015 and you can get yourself one from their bandcamp page. But if you are KVLT then bad news for you their cassettes were limited to 200 copies only which is now sold out.
Listen to 'Death Trance Ritual' here: https://tantrasociety.bandcamp.com
Godless – Swarm
Death Metal – India
India is undoubtedly a constant source of extreme death metal, and some of it is unabashedly great. And perhaps one of the best among these in recent times is Godless from Hyderabad. The band faced quite a bit of national level success following their debut EP in 2016 and stirred the international scene as well. But it was their sophomore release, 'Swarm', which really turned heads around and allowed Godless to embark on a massive European tour.
Swarm reminds the listener of the brutal death metal era with some remnants of thrash still clinging to it. One could say that the level of production on this album is one of the best amongst Indian bands, and Godless will surely be the next big Indian band that the international metal crowd takes to. The band is now headed for their second country wide 'Evisceration Tour' with fellow brutal death metallers Gutslit.
Listen to 'Swarm' here: https://godlessindia.bandcamp.com/album/swarm
Chepang – Dadhelo A Tale of Wildfire
Grindcore – Nepal
The term Chepang refers to an indigenous tribe that resided in the mountainous regions of Nepal. And this band is not only made up of individuals from members of the Chepang tribes but they also incorporate some of their native musical elements in their grindcore. With success from their first EP, 'Lathi Charge', the band shifted to the United States in its entirety and released their debut which is perhaps one of the best pieces of South East Asian grindcore till date.
The Nepali grindcore scene is truly immersive and produces gems every few years or so. There are many other Nepali grindcore bands that you can listen to, but Chepang is sure to leave a mark on your grind-mind!
Listen to 'Dadehlo – A Tale of Wildfire' here: https://chepang.bandcamp.com/album/dadhelo-a-tale-of-wildfire
Now head over to the part 2 (to be released soon) of this article to find another dose of South East Asian extreme metal!
Remember to visit BandAdda for the largest collection of metal and rock tee shirts!
Written by Nilabja Banerjee for BandAdda.